Digitization is an unstoppable process to which companies in each sector have to respond adequately in order to maintain or acquire a strong position within their market.
Banks and insurance companies are no exception, which in recent years, have seen a radical change in their own business models, following a significant reduction in the number of physical branches and consequent notable increase in the number of practices managed exclusively online.
The innovations that the digital future brings oblige companies to better adapt to the new paradigms, above all in terms of new customer acquisition and retaining those who are already part of their own customer base.
If it is true that in the modern world everything is easily within the customer's reach, where it is only necessary to write a question on their own smartphone and have innumerable answers from infinite different actors, it is necessary that banks and insurance companies impose a decisive change of course capable of allowing them to maintain a constant and quality presence that is detached from the archaic logic that has dominated them until recently and allowed their more innovative competitors to secure large segments of the market.
Over the last decade, major players have emerged that have revolutionised the Financial Services market by presenting themselves as 'digital innovators', take for example the exclusively digital banks.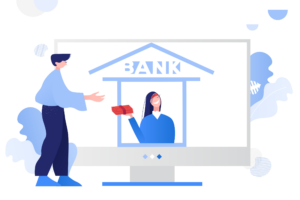 In order to prosper in the current context, it is necessary for banks and insurance companies to adopt an omnichannel approach, capable of fully embracing the needs of consumers and providing adequate answers to their problems across all business touchpoints.
This is only possible today by using new technologies such as Artificial Intelligence, which represents the trump card for all companies that want to maintain their position in the market now and in the future. Thanks to AI, it is now possible to adopt strategies such as:
Analyze problems to proactively respond consumer needs;
Identify in real-time which contacts are most likely buy;
Predict which is the best product for each customer;
Always assign the best operator for each customer.
Companies such as BigProfiles were created precisely to provide such information quickly and easily to those in charge of sales or the company's customer base.
But how can Banks and Insurance companies implement artificial intelligence within their own business?
Thanks to BigProfiles, it is possible to use the power of AI quickly and easily, without the need to be trained in coding.
To learn more, visit our website.