In this article we will focus on a figure who has recently been assuming an increasingly central position within companies: the Credit Manager.
Due to the slow post-pandemic recovery, due to various factors including the outbreak of the war in Ukraine, risk management, and consequently the role of the Credit Manager, becomes vitally strategic in order to be able to maintain one's business at competitive levels.
Increasingly cross-functional, the Credit Manager combines legal, administrative, and financial skills to guarantee and develop turnover by ensuring the customer's solvency upstream and the correct collection of payments downstream, in collaboration with the accounting office and sales administration, all while keeping corporate risk under control.
This figure must therefore succeed not only in having the ability to manage the possible onset of tensions between the sales and financial divisions, but also in paving the way for any new strategies capable of satisfying both parties and thus creating a virtuous circle able to bring benefits to the company.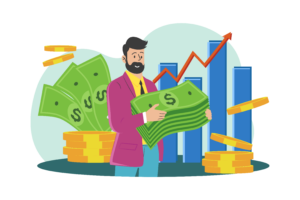 To achieve this, in addition to the aforementioned individual skills, the Credit Manager can also use new technologies such as Artificial Intelligence, which are able to simplify their work and the analysis of customer data, so as to always have an accurate picture, complete with customer payment behavior, the probability of recovery associated with each of them and the expected value of each recovery, so as to implement the best strategies each time to optimize any recovery procedures for every case.
How can a Credit Manager use Artificial Intelligence?
Thanks to BigProfiles, the Credit Manager will have at their disposal a simple and intuitive Artificial Intelligence Platform with which they can create predictive models capable of identifying the spontaneous segments, predicting the probability of recovery of each debt and the value associated with it, without having to add coding and data science to their already extensive knowledge and skill set.
The Platform is designed to be simple, intuitive, and work in real-time through the API connection with company systems.
Would you like to know more? Request a free demo!