El Servicio de Atención al Cliente juega a día de hoy un papel fundamental para las empresas modernas: además de ser un importante punto de contacto entre la empresa y el cliente, puede ser usado como instrumento para el aumento de las ventas.
En este caso hablamos de campañas de Customer Service to Sales, dentro de las cuales encontramos estrategias de Up-selling y Cross-Selling que permiten a la empresa aumentar sus ingresos ofreciendo a sus clientes una mejora de la oferta actual o la compra de productos o servicios complementarios.
Cerrar  ventas a través del Servicio de Atención al Cliente es no es una tarea fácil, y esto se debe a la imposibilidad que sufren algunos BPO, de no poder analizar los clientes potenciales en tiempo real, este hecho reduce drásticamente la probabilidad de venta.
Pongamos un ejemplo: una multinacional BPO gestiona campañas de Customer Service to Sales para un Cliente del sector Telco con el objetivo de realizar el mayor número posible de ampliaciones de la oferta móvil o ampliaciones del plan tarifario.
Para conseguirlo, el BPO debe en primer lugar aparcar el clásico procesamiento de contactos por órden de entrada, que sigue el método FIFO ya que como hemos visto en este artículo, sólo provoca el enfriamiento de los leads más propensos a comprar y una caída drástica de las ventas.
En segundo lugar, dar máxima prioridad y precedencia a los contactos más proclives a comprar, ya que si es cierto que cada llamada entrante puede convertirse en una potencial venta, también lo es que solo algunos clientes estarán realmente interesados ​​en realizar una renovación o en comprar otro producto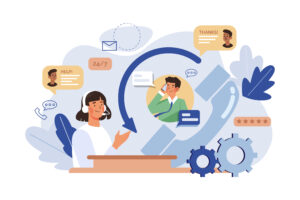 Pero, ¿cómo es posible realizar un análisis previo de los leads entrantes?
Con la Inteligencia Artificial, los Call Centers pueden analizar todos los leads entrantes en tiempo real y clasificarlos según su propensión a comprar. De esta forma, los clientes más proclives a comprar serán gestionados con máxima prioridad y puestos en contacto con el área comercial para concretar la venta.
Al pasar de una lógica cronológica a una prioritaria, basada en la probabilidad de conversión, los BPO podrán aumentar sus ventas en las campañas de Atención al Cliente hasta en un 20% y alcanzar sus objetivos de forma más rápida y sencilla.