Il Customer Service possiede ormai un ruolo di primaria rilevanza per le imprese moderne: oltre ad essere un punto di contatto importantissimo tra azienda e cliente, porta con sé anche la possibilità di poter essere anche utilizzato per aumentare le vendite.
Parliamo in questo caso delle campagne di Customer Service to Sales, al cui interno troviamo le strategie di Up-selling e Cross-Selling che permettono all'azienda di incrementare i propri ricavi proponendo ai propri clienti un up-grade dell'offerta attuale o l'acquisto di prodotti e servizi complementari.
Riuscire a concludere le vendite dei contatti presi in carico dal Customer Service è comunque molto difficile e ciò è dovuto al fatto che i BPO che se ne occupano non hanno la possibilità di analizzare a fondo e in tempo reale i lead in ingresso, diminuendo drasticamente le probabilità di vendita.
Facciamo un esempio: una multinazionale BPO gestisce le campagne di Customer Service to Sales per un Committente del settore Telco con l'obiettivo di effettuare il maggior numero possibile di up-grade dell'offerta mobile o di aggiunte al piano tariffario.
Per riuscirci, il BPO deve innanzitutto  slegarsi dalla classica lavorazione dei contatti in ingresso secondo la logica FIFO che, come abbiamo visto in questo articolo, porta solamente al raffreddamento dei lead più propensi all'acquisto e a un drastico calo delle vendite.
In secondo luogo, dare massima priorità e precedenza a ai contatti più propensi all'acquisto, poiché se è vero che ogni chiamata in entrata si può trasformare in una potenziale vendita, lo è anche che solo alcuni clienti saranno realmente interessati ad effettuare un upgrade o ad acquistare un altro prodotto.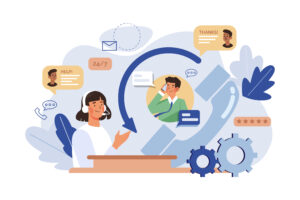 Ma come è possibile effettuare un'analisi preventiva dei lead in entrata?
Con l'Intelligenza Artificiale, i Call Center sono in grado di analizzare in tempo reale tutti i lead in ingresso e ordinarli secondo la loro propensione all'acquisto. In questo modo, i clienti più propensi ad acquistare verranno gestiti con la massima priorità e messi in contatto con l'area commerciale per poter finalizzare la vendita.
Passando da una logica cronologica ad una prioritaria, basata sulla probabilità di conversione, i BPO saranno così in grado di aumentare del 20% le loro vendite derivanti dalle campagne di Customer Service to Sales e raggiungere i loro obiettivi più rapidamente.