The Call Center market is constantly growing, valued at a global level of 91 billion dollars, it is expected that it will reach 150 billion dollars in 2031, and we don't struggle to understand why: in a world where finding information is always easier, but at the same time increasingly anonymous, call centers represent a very important means of contact for companies, since they allow you to convey your brand image while maintaining human contact and allowing for the personalization of the experience.
As simple as it may seem in theory, in practice the contact center faces many challenges that it must overcome, especially if it is to remain competitive in the future. The possibility of being able to provide an always excellent and punctual service, in fact, necessarily passes through digitization and the use by BPOs of new technologies, one of which is Artificial Intelligence.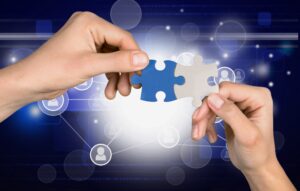 This applies to both outbound campaigns and inbound campaigns.
The former allows you to get in touch directly with the potential customer, managing to establish a connection and understand their needs in real time in order to be able to satisfy them. In the case where this does not happen, this connection can still lead to understanding why, and therefore to learning, allowing you to adjust future contact. By applying AI to these potential customers, it will therefore be possible to be able to analyze the data before making phone calls and be able to contact those who are genuinely interested, offering them the best product for them, at the best moment of the day and through the right operator. In the same way, it will be possible to collect rejection data to generate models capable of improving the subsequent sales approach and give greater impetus to a very important dynamic for companies: two-way communication between customers and company top management, between supply and demand.
The latter make it possible to listen to the customer and personalize your response, understand their needs and establish a relationship with them, building loyalty and making their experience unique. Using Artificial Intelligence, all this can become even simpler, thanks to the possibility of being able to order incoming calls in real time in order to provide the fastest service to those who need it most, or by providing each customer with the most suitable operator, experienced in their problem and able to assist them in the best way.
All this makes it possible to provide an optimal service for all current, or potential, customers, but above all it makes the work of the Call Center even more efficient which, by using Artificial Intelligence, can optimize resources, increase revenues and reduce costs, thus generating a beneficial cycle in which the consumer is always at the center of the process.
How can AI be implemented within call centers?
Thanks to BigProfiles, the first Artificial Intelligence Platform designed for Call Centers, it is possible to make the most of the power of Artificial Intelligence and implement strategies capable of increasing the results of both Outbound and Inbound campaigns and preparing your call center for the future.