The Call Center represents a very important means of contact for companies, as it allows the brand image to be conveyed while maintaining human contact and making it possible to customize the experience according to the customer's needs.
It is no coincidence that companies belonging to various sectors, from Utilities to Telcos, and even debt recovery and non-profits, use it to improve their results in terms of acquisitions, retention, cross-selling and collection, contributing to constant growth of this market, as we have already seen in this article.
Part of what makes call centers essential mediums for modern companies, in addition to what has already been highlighted above, lies in their flexibility and ability to orientate towards the future, managing to implement new cutting-edge technologies without too many difficulties.
Let's look at an example: a BPO has an open contract with a large company in the utility sector for which they receive a fee for each activation of an electricity contract. To find contacts to call, they usually rely on List Providers who provide them with a certain amount of personal data per month, thanks to which they manage to make sales to 1.5% of the contacts obtained.
An honest result. But the call center market, as we have seen, is highly competitive and must consider the number of sales not only for its turnover, but also to be able to reach the targets set by the client company or be identified as a top performer.
In the current situation, however, the results are difficult to improve, because they are linked almost exclusively to chance. The BPO who sells the product for the Utility is not able to understand which of the profiles they have purchased from their list provider, is more or less interested in buying or if there is a product in which they are more interested, nor which is the best operator to entrust the potential customer to in order to have a better chance of positively closing the sale.
This is where Artificial Intelligence and the flexibility of call centers come into play. The BPO in our example, could in fact, by implementing Artificial Intelligence in its business model, decide to ask its List Provider for a higher number of contacts, to analyse them in advance and proceed with processing only those who are interested in an electricity contract and who, at the same time, are inclined to activate one.
In this way, the actions of the BPO are freed from being based on chance and given the possibility to implement strategies which, thanks to an action of advanced targeting of the prospect lists, allows for an increase in the number of sales of up to 4.5% of the total of the personal data purchased as opposed to the initial 1.5%.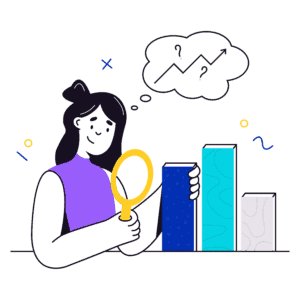 But how can artificial intelligence be implemented in the sales process?
Thanks to BigProfiles, it is possible to make the most of the power of Artificial Intelligence to analyse the list provider's personal data in a very short time and without any knowledge of coding and then choose the most suitable profiles for achieving higher sales and turnover.
If you want to know more, come and visit us on our website www.bigprofiles.com and request a free demonstration with one of our consultants!