In the current context in which innovation and digitization have become essential elements to ensure business continuity, every company, whether targeting B2B or B2C markets, needs to implement services capable of optimising their internal resources and, above all, to provide the best experience to their target market, whether it is other companies or consumers.
Innovation and digitization rhyme with Artificial Intelligence, a technological class that today plays a strategic role in the organisational and operational fields, making it possible to improve approaches and achieve success in the constantly changing economic context.
It often happens that artificial intelligence is associated only with companies operating in B2C. It is thought that as they have more customers, they will have more data to leverage to make AI impactful. However, this couldn't be further from the truth: AI is just as relevant to a B2B business as it is to a B2C business. It is important for any company that is involved in selling its products and services to other companies to evaluate the ways in which artificial intelligence can help it produce better products, provide better services and improve business processes.
In the case of B2B, it not only makes it possible to optimise processes by automating some of the employees' routine tasks, but it helps companies better understand who they are targeting and consequently produce products and services that are more in line with consumer demands. In addition, by supporting key figuresin the company at all levels, it allows for streamlining of processes and simplification of internal decisions. This not only has repercussions in terms of reducing times and costs, but above all in an increase in company performance, an expansion of the range of available strategies and a better use of resources that can now be effectively dedicated to making the business better at 360 degrees.
From a B2C perspective, artificial intelligence is what companies have always wanted to have. In fact, it allows you to get to know consumers in depth and makes it possible to personalize the approach towards them, taking the form of a unique offer for each of them, based on the ability to offer the right product every time, at the right time and with the best operator. As true as this is in reference to the acquisition of new potential customers, it is even more so when our target converts into a customer and becomes part of the brand family. Customer Experience receives a powerful acceleration thanks to the use of AI, allowing companies to be close to their customers at all times and to respond to their needs in a timely manner, often even anticipating them.
In essense, artificial intelligence is nothing but the best friend of companies, the only one capable of ensuring optimal results in any context.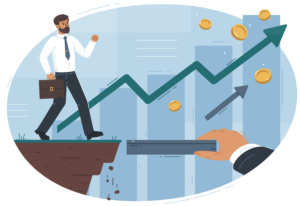 But how is it possible to implement it within your business?
By using BigProfiles, the first Artificial Intelligence Platform for companies able to adapt to sales, customer retention or debt collection needs. Easy and intuitive to use, it allows anyone to create their own predictive models and achieve their results with just a few clicks.
Would you like to know more? Let's speak in a free demo!