In today's context, the paradigms on which a company must base itself to be able to maintain itself as a successful business are constantly changing, suspended in a sort of permanent evolution fueled by the set of new technologies and innovations that enter the market every day, shaping the way we do business.
Widespread technology, multi-channels, and the possibility of being informed at any time on any topic have changed not only the way we use products/services but also the behavior and expectations of current and potential customers.
Companies can no longer afford to simply be product oriented. The customer is now the real protagonist of the shopping experience and therefore expects transparency, personalization, involvement, and satisfaction.
For this reason, today's companies must adopt a Customer Centric approach, which assumes the setting of a strategy that starts from the customer and their needs, with the goal of solving those needs in order to maximise their satisfaction.
By this we mean a 360-degree strategy that triggers a transformation of external and internal processes that make it possible to quickly collect customer data to carry out a precise and punctual analysis, thus allowing us to respond to any unsatisfied consumer requests.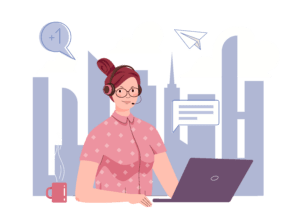 But how is it possible to be able to analyse such a large amount of data?
The first step is to equip yourself with a CRM that is able to store all this information in an orderly and above all reusable manner.
Subsequently, it is necessary to implement Artificial Intelligence within your business, thanks to which it becomes possible to easily handle all the information collected in your CRM and from this set the best strategies to achieve business objectives.
Artificial Intelligence makes it possible to better understand the characteristics and desires of one's customers, designing a personalized purchasing path for them that can follow them from the first contact with the brand to the purchase and beyond. Only in this way is it possible for companies to free themselves from a product-centric approach and fully embrace customer centricity.
If you want to know more about how to use Artificial Intelligence in your company, visit our website www.bigprofiles.com and request a free demonstration from one of our consultants!