Every modern company needs to adopt an increasingly customer centric approach, capable of listening to the needs and desires of consumers and considering their continuous evolution to respond proactively, thus ensuring the stability of their business.
This becomes possible by offering a high-level customer experience capable of ensuring various advantages in both the short and long term. Customers who are satisfied with the products, purchase experience and after-sales service are loyal to the brand, a feature that will lead them to buy again and recommend the product to friends and relatives, as well as leave excellent feedback.
How is it possible to create a CX able to bring these results?
The first step is to use a CRM (Customer Relationship Management), i.e., a software capable of collecting any information or data about current or potential customers, as well as their interactions with the company. By doing so, you can manage your customer relationships in a careful and thoughtful way, ensuring that each product and service is as in line as possible with consumer expectations.
The second step consists in combining your CRM with another technology, which is essential to be able to make the most of the potential of the information obtained from consumers: Artificial Intelligence.
Thanks to it, it becomes possible to analyse the huge amount of data inside the CRM in a very short time and trace models on the data capable of predicting the behaviour of current and potential customers within it which in turn will define the best strategies in the Marketing, Sales, and Customer Service fields.
In the case of Marketing, the integration of AI in CRM enables an increase in lead generation and the automated analysis of reports, allowing you to reach a greater understanding of the customer.
From the perspective of Sales, AI allows you to classify leads and prospects according to their propensity to purchase, making it possible to focus on those profiles that are most likely to convert by assigning them to your best operators.
In the Customer Service area, thanks to AI, it becomes possible to carry out a preventive analysis of the unmet customer needs, in order to proactively resolve them, providing the solution before the problem occurs.
In the Customer Success field, it is possible to identify customers with the highest Lifetime Value to implement retention strategies capable of effectively retaining them.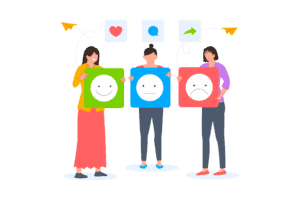 But how can Artificial Intelligence be applied to your CRM?
Using the BigProfiles Artificial Intelligence Platform, with which it is possible to generate propensity to purchase or churn probability models in just a few clicks and without any knowledge in terms of coding. Just connect it to your CRM and the range of possibilities will expand enormously, making it possible to always set the best strategy according to the company objectives.
Would you like to know more? Come and visit us on our website www.bigprofiles.com and request a free demo with one of our consultants.